I started writing this blog last night after the telecast but myspace was not posting my images. I use that to translate the HTML code.
This year for some reason there was a really high rate of pregnant women among the Hollywood glitterati and also a significant amount of boring, predictable dresses.
Emerging trends for the event include the colour red ( really big), close to the body silhouettes and some more minimalistic or architectural silhouettes than in past years.
Lots of Rami Kashou-esque Greek draping inspired gowns did make an appearance on the red carpet, as well as did certain interesting, adventurous and striking looks.
Your usual roll call of alarmingly thin ( *eating disorder triggers*) celebrities were visible but there was a good showing of lovely women too.
Without further due here is the catty repartis....
Cami Diaz: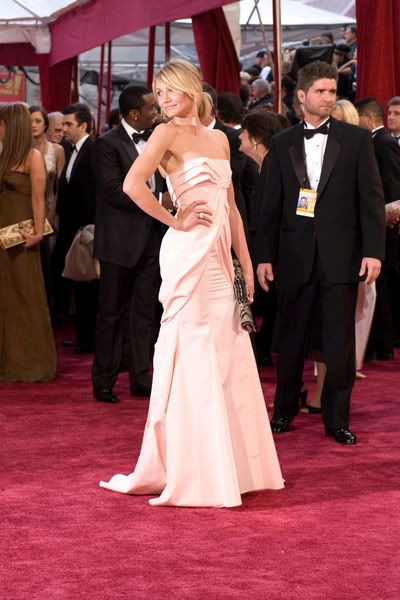 This dress has the same problem as many did and what I have baptized as couture mullets. They have entirely too much going on and they need extensive editing. These dresses are so elaborate the details get lost and there is no focal point. They also border on the Ziegfield showgirl.
Anne Hathaway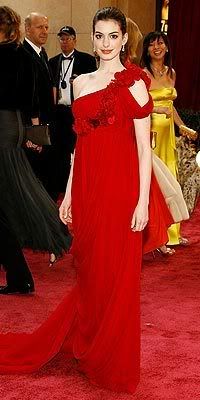 See Cami D but in red. God that girl needs to start eating more she looks very pale and is ageing at accelerated speed...And no, you cannot Botox your neck.
Renee Zellweger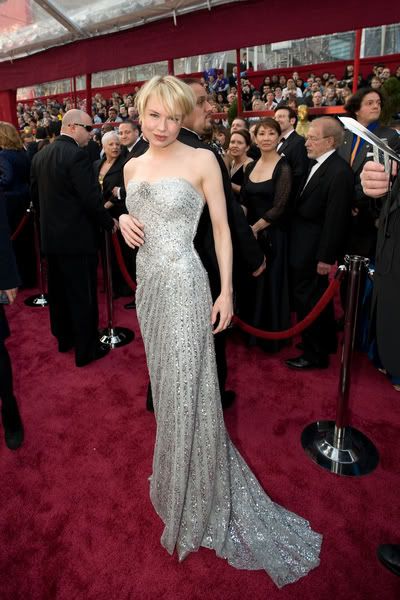 When is this woman going to get through her head that she looks WAY better when she plays Bridget Jones and is an "alarming" size 8 or 10...LOL She needs to stop making weird faces and squinting at the camera because she looks like the she-space monster in Alien. The dress was pageant-y
Miley Cyrus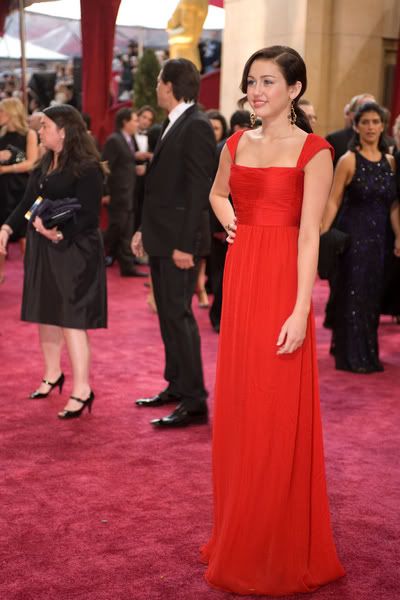 This was simple, bright and age-appropriate and modest which is refreshing. Nice choice.
Diablo Cody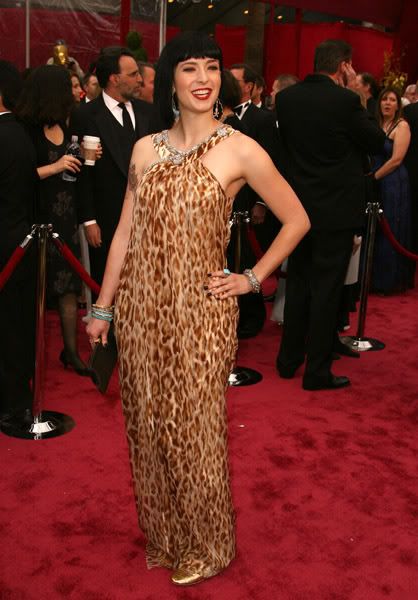 This was, no surprise, my favourite look of the night. I love it all. The fierce print, the subtle beading, the striking hair, the skull jewelry, the classic Sailor Jerry ink and the Ditta Von Teese vintage make-up. Diablo Cody has a to die for look and body and all of the sadly thin and clone-ish celebs wish they were as cool, interesting and hot. I *HEART* you Diablo Cody! If only for your name to start with :-) BTW.. I am thinking of re-naming myself MillaX as a writing pseudonym in hommage to MalcolmX...





Marion Cotillard: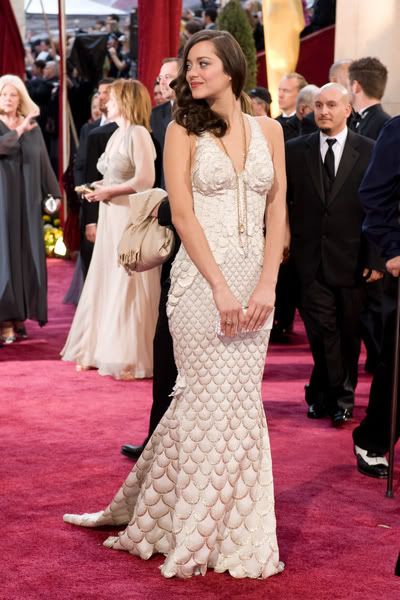 This woman was IMPECCABLE. I loved her gorgeous and miraculously detailed Jean-Paul Gaultier fishscale oyster coloured dress. Her hair was stunning and her mak-up perfect. Mme. Cotillard was absolutely flawless and radiant.
Tylda Swinton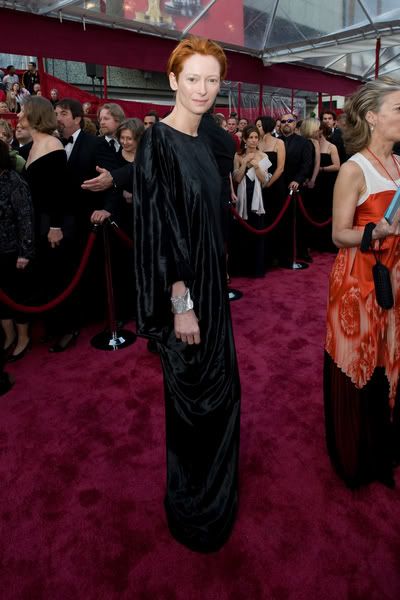 This is another lady that I totally love and goes to show that I have nothing against the skinny if the skinny are not sad and alarming and pathological. This lady is absolutely ferocious and makes adventurous and surprising fashion choices each and every time. I also LOVE that she lets her beauty and spirit shine through and that she is secure enough to wear very minimalistic make-up. No amount of cosmetics can compare to a bright, shinning spirit and intelligence.
Ellen Page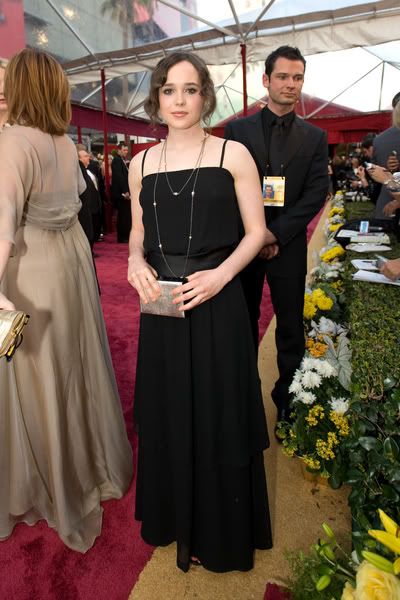 I loved this girl's simple make-up and hair but who was the hateful stylist that picked out this completely forgettable dress?
Katherine Heigel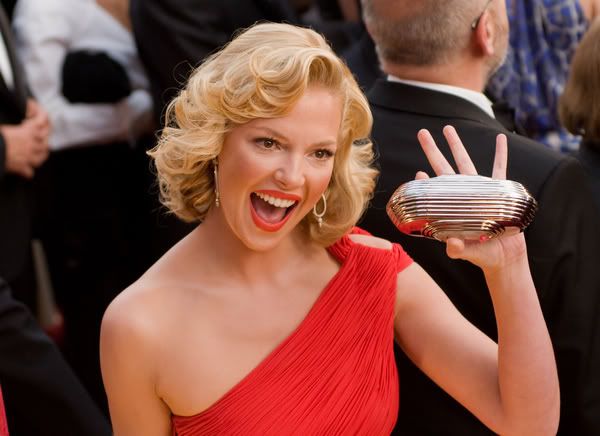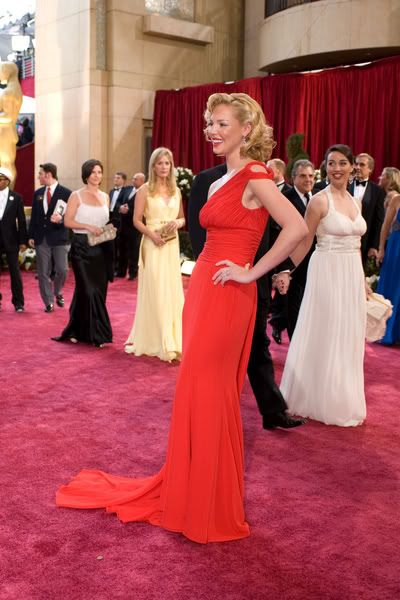 I loved this gorgeous dress and it was borderline perfect. My only issue was with her lipstick. That shade is GLARINGLY wrong for her skin tone. Newflash: Your lipstick DOES NOT have to match your dress. This lipstick makes he look washed out and tarty and cheap and like Bozo The Clown had been robbed of his grease paint. She needed a blue-based, sheer shade instead.
Michael Moore's Wife: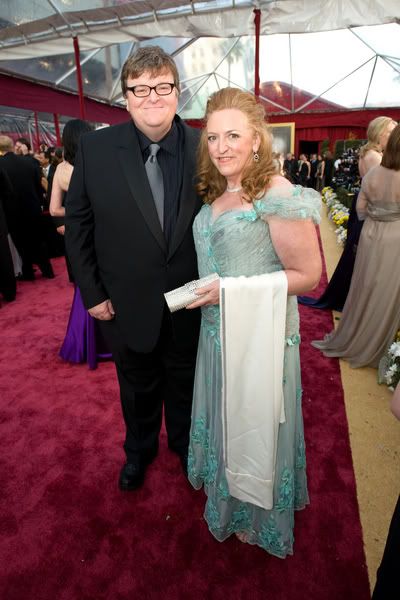 THIS is what is wrong with "normal" women's fashion. Why is it that anytime a woman over a size like 4 and over the age of 18 goes looking for a special occasion dress all that is available is something that looks dowdy, gaudy, matronly or is otherwise in horrible taste? Next time Mrs. Moore please give ME a call. I would to help you look like an age-appropriate version of Diablo Cody or Tylda Swinton. And you do not need to loose a nanogram.
Pene-golfa ( that means tramp, because she is. She bangs everyone she works with) Cruz: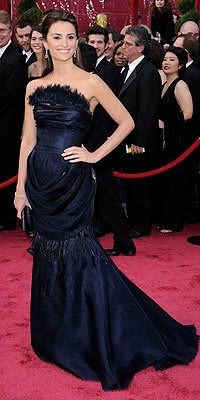 Same case as with Cami Diaz and Princess Amelia Mignonette... ( yes, I have a tween daughter). This is another sad case of the sartorial mullet rearing its ugly head. Too much draping going on. By the way it's like these super-skinny Hollywood chicks are under an epidemic of progeria, that disease that makes people age at an accelerated rate. La Cruz is 6 years almost to the day younger than me and she looks like my mother. Her neck and the area around her eyes say 49 and her passport says 35. And now NOTHING will fix that.
La Kidman: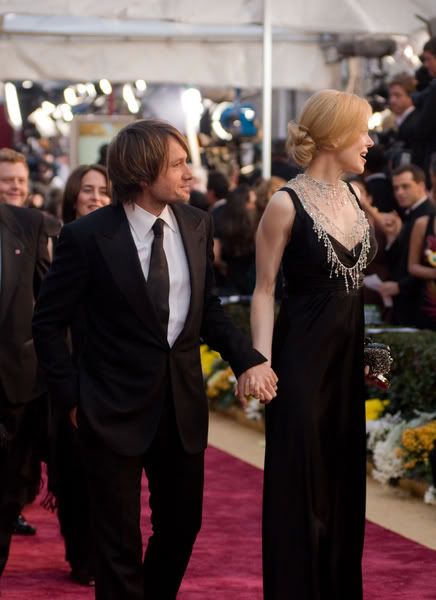 The Balenciaga dress in unremarkable but I am going to cut her a break because she is with child. She looks better than she has at any previous event.
Jessica "Coconut" Alba: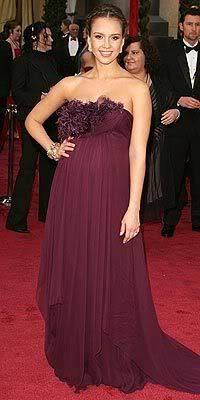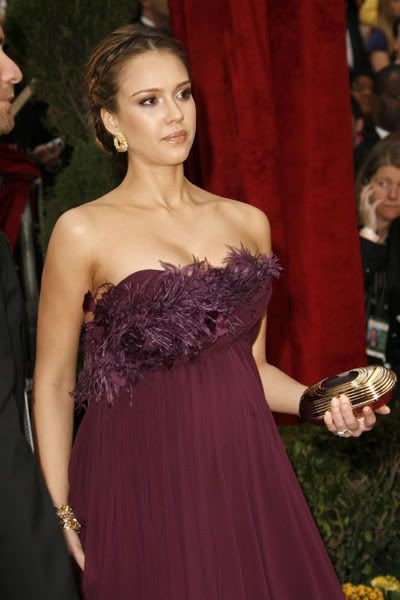 I call her that because she has said multiple times she is not pleased about being of Mexican ancestry and tries to act as much as possible like a white chick. The dress was kind of misguided. I am not a fan of Empire silhouette, even in pergnat women and the marabout feathers looked gratuitous. I liked her hair though.
Jennifer Hudson: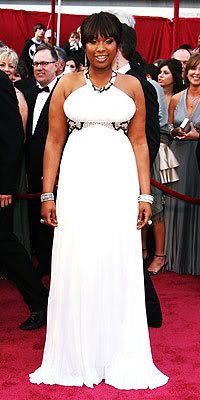 I love Jennifer Hudson but this dress did not do her any favours. It focused on yet did not provide her chest with adequate and much needed support, and failed to flatter her beautiful skin tone.
Jennifer Gardner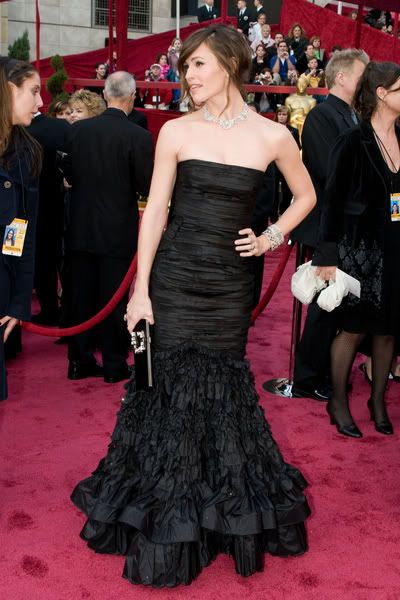 Yet another clone black mermaid style gown. Blah
Helen Mirren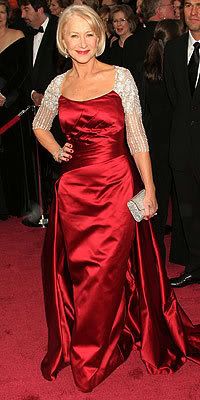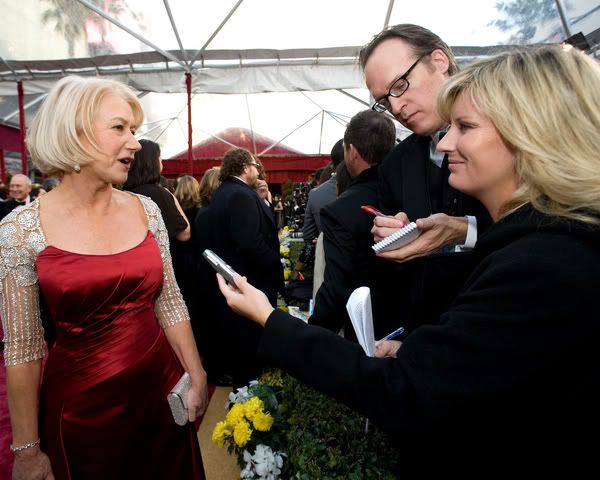 As always this STUNNING woman is an example to follow. Her dress is beautiful, perfect for her incredibly sexy figure and has bling in all the right places.
Brunhilde Valkyrie: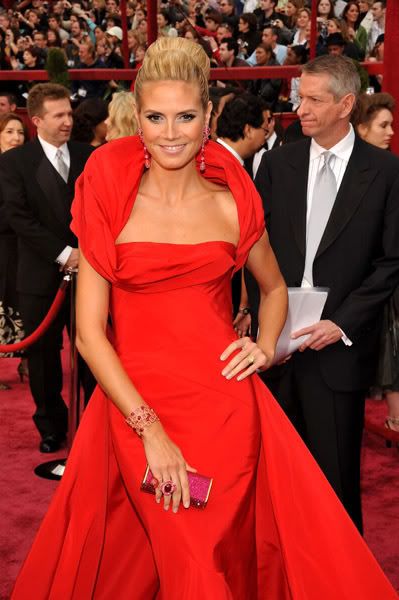 And this woman judges people's fashion and taste? Geezus this looks like a Disney-on-ice costume for the Evil step mother in Enchanted/Ursula the Sea Witch/ Maleficent/ The Evil Queen. WTF was that???
Amy Adams: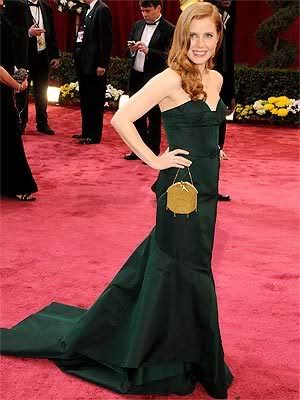 Two words: Onyx Nites Prom Collection 2008.
Other particularly offensive ones were Sarah Larson ( George Clooney's surgically engineered fembot/pageant contestant gf) who looked like she had pulled a Scarlett O'Hara and tore up an antebellum/ shabby chic couch.He, on the other hand is dreamy and is ageing like fine Bordeaux. Also a shameful mention goes to Calista Flockhart. Everything she wears reminds me of a bedsheet wrapped around a broom and Maya Rudolph whose dress reminded me of a poor men's Snow White after a bleach accident....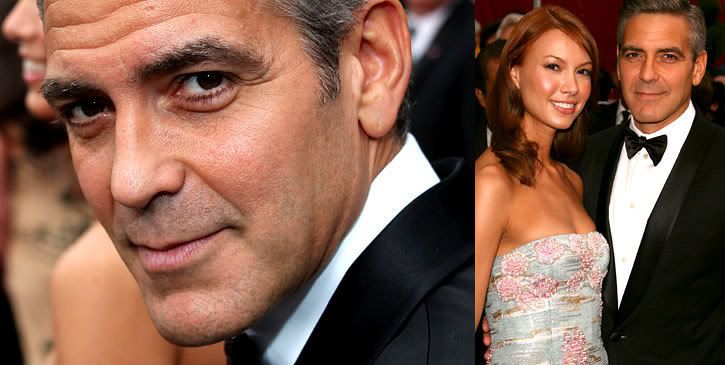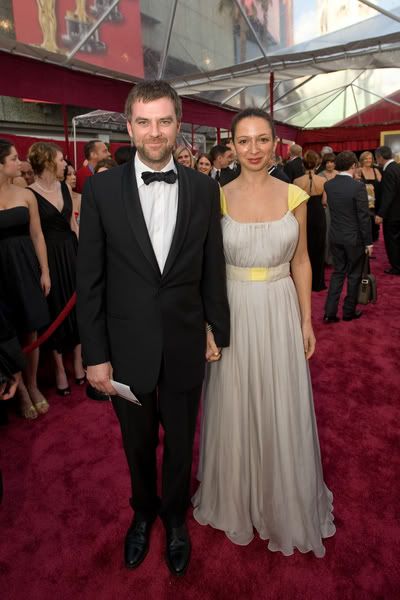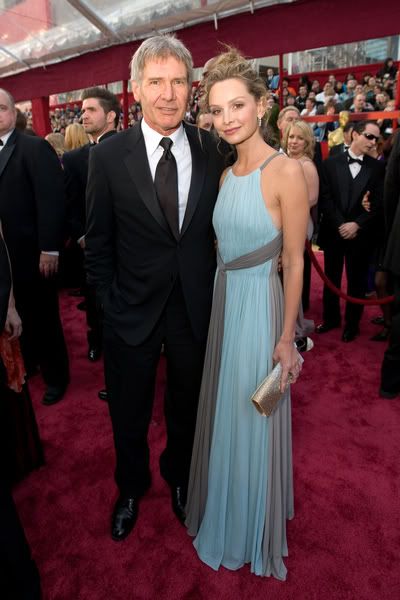 In contrast to these horrors, the also pregnant Cate Blanchett was as usual extraordinary in her elegance, beauty and appropriatness...