So I am a bit late posting my Project Runway blog this week because I am exhausted.
I moved out of San Diego place yesterday.
Wednesday me and my Celebrity Personal Assistant went to watch the show at a cozy little gay bar in San Diego called The Loft (2150 5th Ave, Hillcrest) and the scene pretty much was the gayest thing you have ever seen.
We were watching Project Runway in a gay bar with same level of attention, devotion and play-by-play commentary usually dedicated to the Super Bowl at sports bars.
The audio was via close caption while on the background the likes of Olivia, Shania, Queen Madge, Abba and Cher played on the juke box....
Great show and great challenge this week.
Create an evening cocktail look inspired by New York City at night...
The possibilities were amazing
and this is how our current crop of sartorial artistes responded to the challenge...
Blayne:
This dress was so New York....during Pride Week...
Blayne's homage to the Rainbow flag was not the most interesting nor sophisticated offering of the show. To me, the only difference between this and the eliminated look , were the sleeves. But if you act like a Keebler elf friend of Tina,you are pretty much guaranteed to stay around until the semi finals just because of the sheer entertainment value and because you make for good reality TV...
Daniel:
Onyx Nites Prom Collection 2008. When are young designers going to learn that lame is only to be approached when you are a Zen Master of Couture?
Memo to non-exceptional designers: Unless your name is Norman Norell, Valentino, William Travilla or Giles Deacon STEP AWAY FROM THE LAME!!!!
This is how lame should be done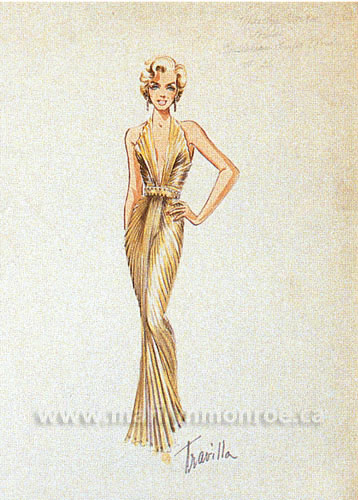 And this is what Daniel gave us...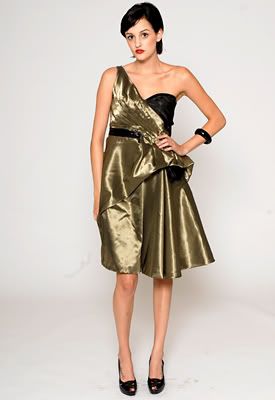 Emily:
Ok... this loosing proposition of a dress made me think of two things, loose labia and an overtuffed mortadella sandwich... neither are pretty. Enough said..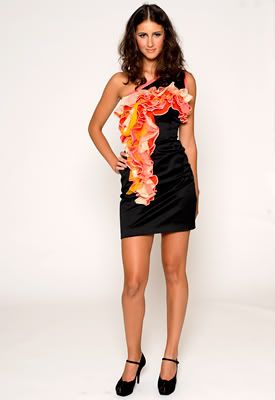 Jennifer:
Ok...now I am convinced that The Duchess, Nina and Heidi are possesed by either the Bratz Dolls or Vegas hookers... Anything that does not look like a slutty 14 year old's idea of "sexy" is deemed "matronly". Matronly is what you find in 99% of the plus size retail outlets in the world. Jennifer's dress had some construction issues for sure. But it was LOVELY!!!! I actually have a Stella McCartney dress that looks almost exactly like it. If the had been shown in Vogue on Natalia Vodianova with the label Prada on it, these bitches would have been all over it.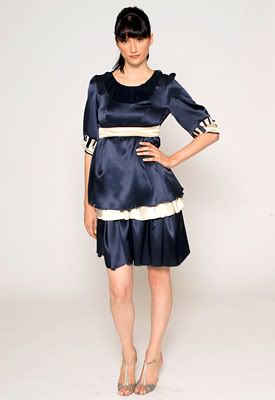 Jerrell:
This dress and this styling ARE 2 years ago Galliano verbatim. BUT it was a feat of skill to turn a dress this elaborate and well made in a day.Two snaps up for Jerrell and his mad construction skillz....
Joe
I actually loved this dress. It was actually oneof the truest to the initial inspiration in the photo.
Keith:
One word: "Derelicte!" ("a fashion, a way of life inspired by the very homeless, the vagrants, the crack whores that make this wonderful city so unique.")... So, actually and in an indirect way, he was right on target...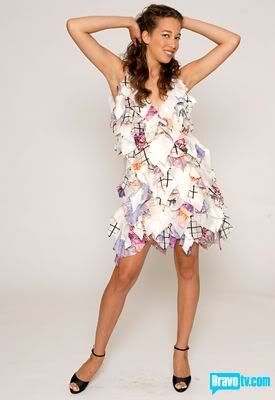 Kelli:
This dress was gimmicky, but really kind of cool. What I really liked was the hair and make up.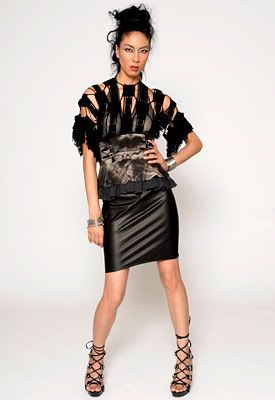 Kenley:
Yet again I disagree with the judges...this dress looked like an pinata that was too sizes too small. Loving Kenley... the dress? Not so much...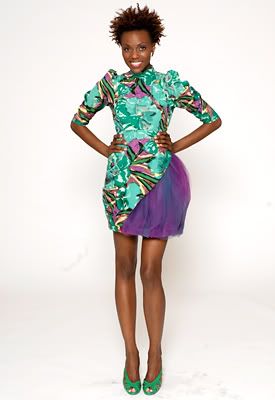 Korto:
I actually love this look I have had it in my closet in many variations. It is definitely not innovative. But it is elegant, well made, flattering, sellable and infinitely wearable.
Leanne:
This was gorgeous!! Perfectly made, inspired, tasteful and restrained... The construction was flawless.What a difference a week makes.
[dress]
Stella:
Leatha!!!!! Really girl... the LA rocker chick look this literal, is tired even in LA...
Evolve, grow, or stick to Melrose and the Hell's Angels....You are 43....time to try new things...
Suede:
One phrase echoed across the gay bar "That looks like Beyonce and Baby Phat"...I tend to concurr. Suede did not rock it this week.
[dress]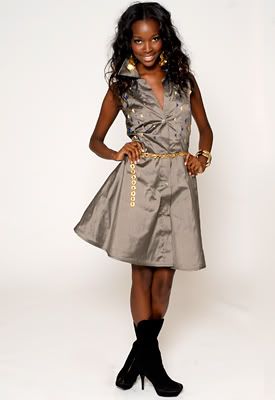 Terri:
The Sandra Bernhard was ooing and aahing about this look. I liked that she did pants. I like the general idea. I hated the print and the proportions....
This week kind of proved something to me. That despite the hype of"better and better"designers the claim sort of does not hold true. Sights of NYC as an inspiration had been previously done with beautiful and memorable results...Remember Jay's "Chrysler Building" dress? Or Andrae Gonzalo's "Dirty Water"dress?
This challenge has actually yielded two of the most memorable PR creations of all times.
Yet this time the designers failed to deliver an equally memorable and awe inducing result. Go figure....