I was so looking forward to this episode because the Xmas hiatus/ rating building break/ whatever, seemed to last a lifetime.
It took me a couple of days to write my recap because I did not get to watch the show until last night.I just got back from TJ.
So for this episode the designers get woken up by the Sir Tim Gunn and they go on obligatory, yet not cute anymore, magical mystery manhattan/times square tour. The sense of wonder kind of wore off after they did the Barbie thing...
Somewhere over the product placement mixed messages fly....
Last time they did this whole episode over the virtues of obscene and unrealistic weight loss, and this week they extoll the virtues of a veritable Wonkaland of carbohydrates galore. Geez, Auntie Em, a fat girl can get confused that way. I thought I was supposed to swear off anything not sweetened with Splenda ( As if!...LOL). So is eating cheap, mass produced, non-fair trade chocolate in or out this week?
Personnally, I will not touch Hershey's because after good chocolate, it kind of tastes like motor oil, but Twizzler's... I love me some Twizzler's. I can snack on Twizzler's all day long.
So they get to the store and they are told they can make whatever they want out of whatever they can grab out of the store. Are they getting mighty lax and way easier this season or is it just me being just like my father (too demanding, too bold) or like my mother ( never satisfied).
So they get back to the Parson's and they have one day to finish their outfits. No notions, fabric, nada.
m'k....
Well at least it's creative. Although going by the results, this was a case, yet again, of who managed to suck the least because I don't think that anything took me over the rainbow.
So let's start the binge and purge cycle, shall we?
Adorable Sissybear did me proud this week... totally found the way to my heart with his Sprouse-esque rendition... ( I own lottsa Sprouse and treasure it :-) )
To me this was the weeks hands down, no contest winner. But as usual the judges have no taste.They place him second.
Kit-Kat plays with her kittie-kats
I love the skirt and styling on this one. I think the bustier top might have been overkill but Marie ( my super duper favourite model this season) sold the hell out of this look.
Freaky-dicky girlfriend
All was already said. A poop dress with silver space "floatees". The construction BLEW.
Kevin
Cute brown and silver outfit. Very well constructed and actually, wearable.
Polly Pocket/Princess Puffy Sleeves/ The chicken Lady
Only one I in the Fierce this week. I am his biggest fan but this is entirely too much like the paper coffee filter dresses I have seen before. Twice over ( and if another fashion design major reproduces Austin Scarlett's cornhusk dress one more time, I reserve the right to go postal on them. It's almost become a rite of passage now).
Sweet P
For being her third try, I actually don't hate this.
Jillian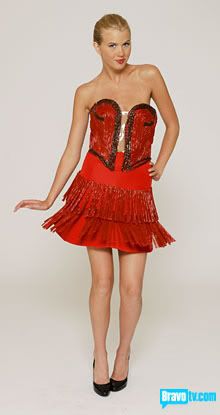 Why is it that I hear "Kill the wabbit, kill the wabbit " in my head when I look at this?
Ok.. she tried to make it all out of food... yada, yada, yada. But when I imagine it made out of fabric or leather, it is a COMPLETE fug and totally costumy..
Victorya with a Y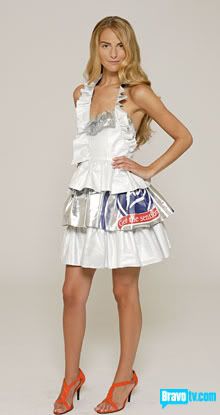 Not only a fug but a foofy fussy fug which is kind of like a satanic bunny with fangs.
Or that dress.
Ricky, the amazing human water fountain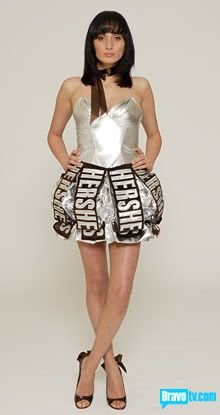 My second favourite look!
I was shocked and delighted. She looks like a breathing Hershey's kiss. Tres kute...
TAG Rami and his fearlessly Eurotrash wardrobe
This sweet little homage to Judy Jetson
Won him the challenge, I am personnally not that fond of the look, and although it had a great fit and was well constructed, it was busy as a condom dispenser on Springbreak. Too much for my eyes to handle although he gets a two thimbles up for effort.
What suprises may lie over the rainbow for our current crop of wacky couturiers-en-herbe?
Stay tuned and until then...
Right there by the lemon drops, that's where you'll find me :-)