So today's episode brought back a lot of memories.
I am known and have always been known because I have edgy, yet absolutely exquisite taste. I have it now and I had it at 16, 17, and 18.
I went to TONS of dances and proms some themed, some regular.
My first prom, I wore a skirted Yves St. Laurent-ish tuxedo. I had Anna Bella from Bow Wow Wow hair at the time
and it was simply too fierce for words.
My junior prom was REALLY a big deal. I wanted to wear a dress that was an EVENT.
And I ended up with a VERY important designer dress that looked almost identical to this Vivienne Westwood. It's still hanging in a closet at my mother's house... Same fabric, same cut, same style, same colour.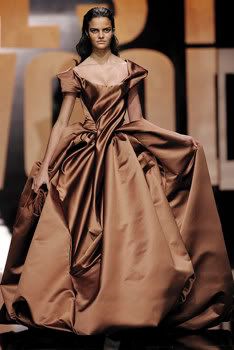 I was without a shadow of a doubt, the most beautiful girl in my school. I really was.
My senior prom, my dress was a pearl colored, Grecian inspired architectural two-piece dress. The top was sleeveless and had a slight cowl neck and it had a floor lenght straight skirt. I wore it with a caviar colored sequined cardigan. I designed that one.
Flawless. Dateless too, but that is a minor detail. I did not get my first real boyfriend until college. Boys at that point just wanted to paw me. I was not viewed as relationship material since I was a combination of Ally Sheedy in "Breakfast Club" and Pat Benatar in "Love is A Battlefield".
I only WISH the girls from today's challenge had either my style or my edge. Because then the designers would not have looked and acted as if they had to dress demons or Tazmanian devils instead of 17 year olds, but I don't blame them. If I had to dress a teen, I would be in a panic because girls that age are nowadays little brats. I know first hand because I have one that thinks she knows everything and that she is Ivanka Trump.
But the designers had their work cut out for them this week. Particularly Polly Pocket who found his nemesis...
But it's time to see how the designers did in this battlefield that is love....
Victorya with a Y:
This was the winning design and it was age-appropriate, modern and well-contructed. I really liked the jewel detail on the neckline and the colour was innovative. It was a cute dress. Not a WOW dress, but a cute dress. This dress was not at all Too Shy.
Sissybear
This celery coloured beauty was just BEAUTIFUL. The construction was impeccable, the draping exquisite and the ruching SO tasteful. There is everything to like about this dress. It is elegant, sexy, pretty and fresh. Well done Chris! Completely and totally True.
Kevin "Backstreet Boy" Fatone
Chris warned Kevin several times about hemming the dress.The fabric he used in difficult. Metallics are tricky and so is red. Red is a colour that requires a WOMAN. Red is not for kids. And red can look cheap very easily. And red and a metallic looks like a Mexican maid going out on Sunday night. And yes, the judges really wanted to hurt him and definitely make him cry.
Magenta... sorry, Jillian (anyone Rocky Horror fan could see that)
This is adorable and kind is reminds me of a real-world Disney Princess. It is very Aurora and very Ariel, but in a good way. The construction and cut are irreproachable and the design romantic and elegant. True Blue, baby I love you.
Polly Pocket:
Christ... where do I begin.... This was a skorching hot mess. The construction and fit were horrid. The colour choices, dismal for that girl and she looks like a pinata in the efigy of a hookery Quiceanera. If you are Mexican and I tell you this, you would slap me. Not that Princess Puffysleeves had it easy. This girl was a little witch and on top of it, had no taste. Which I am proud of him for not saying. But on the other hand, I can say it. For Sister Christian the time almost came to be the only one to say, ok....
Kit
I don't know about this one.... It is a cool dress. It is well-constructed. But it is NOT a prom dress. More like a cool cocktail dress or something that a younger woman would wear to a wedding. But not the prom. It looked too...mmhhhh swimming pool accesory-like. I did not know if that dress rocked the Cashbah, if it should stay, or of it should go.
Ricky
This dress just did nothing for me. The hem was messy and poorly constructed. But Ricky just about melted my heart when he was talking to his mami on the phone tonight, so I'll have mercy. But this dress would have been another Crying Game.
Riff Raff ( again--sorry about that I can't help it...)-TAG Rami
The judges were on the money with this one. It is a beautiful dress. And it is perfectly constructed. But it belongs on a 35-year old going to a cocktail party, not on a girl going to prom. I tell you, because I wore a vintage Halston dress almost exactly like it but in cream to my Hospital's Xmas party 6 years ago in Montreal. And I was barely old and woman enough to carry such an Ursula Andress/Marissa Berenson/ Bianca Jagger-esque creation. It did not deserve the boot but the bottom 3 spot was well deserved because it was innapropriate.
Sweet P
This was my favourite dress in the episode and to me deserved for me the win.
The construction and fit were impeccable. The design simple, yet tasteful, glamourous and elegant. It is sexy without being slutty. It is lovely. Sweet P brought me a higher love.
So all in all there weren't as many terrors as there could have been and the bad was not as bad as it could have been. I am SHOCKED that Kevin was the one who went home since I fully expected it was Ricky's time to go bye-bye.
So for this week it's time for me to fly because I need to go to bed. Until next week, Sweet Dreams