Are the challenges getting less exciting and creative or is it just me expecting too much?
For today's challenge, the designers had to pick among a slew of sucky trends, reinterpret them in a modern way and spew out a cohesive collection of three looks that used the three trends since they were put into teams of three ( That reminded me of the witches in "Charmed". I half expected Shannon Daugherty to be one of the judges but I already knew that the guest judge was the Donna Karan).
The stuff that they had to reinterpret was seriously the worst of the worst of the last 30 years: Neon, overalls, baggy sweaters, poodle skirts... I did not know for a bit if I was watching Project Runway or one of those segments on "Fear Factor" where they have to eat rats brains and rotten maggots milkshakes.
The thing is I have worn each and everyone of those things in its time and it was kind of fabulous but the way they put it .... geezus, I am glad I had dinner a few hours ago.
More appropriately than ever, let the carnage begin...
Jillian's:
Well, actually I was expecting "Come on Aileen" or a tribute to my deceased uncle Chico Che who made overalls famous in Mexico
from what SHE was wearing, but I actually really love these pants. I love the cut, the wide leg, the fitted bodice in the "overall bib" and the graceful and femenine chiffon blouse. Like they said in those cereal commercials: "Look mom, Milla liked it!"
The Ambiguously Gay Rami:
This is a cute dress. Nothing better or worst than what Ricky did on the first challenge, but it is serviceable, youthful and non-offensive.
Kevin:
That really sucked. No offense but it sucked like a Bangkok hooker. The collar on the blouse is yucky and awkward and seems out of place, the Liberty print feels incongrous and although I like the fact that the shorts were high-waisted, I just hate shorts as anything other than resort wear.
Kit's:
I don't totally hate it, but I don't like it either. My issue is I would have on used 1 of the prints, the stripe. I would have used a solid and taken the opportunity to introduce colour. The construction is good and it looks like she tried and was sober while sewing.
Jack's:
Oh, oh, ok... I had to wake myself up after the dose of sartorial Ambien that this dress is. Again a case of " I bought this dress 6 months ago, at the Target, as part of the Libertine collection". I do not have any construction problems with it though. Am I the only one OVER the leggings moment?
Christian's:
Christian Siriano: "Have I told you lately that I love you, have a told you there's no one else above you, you fill my world with gladness , take away all my sadness, ease my troubles, that's what you do ?" This is an elegant, put together, modern and perfectly tailored look. I would wear this tomorrow with my Tarina Tarantino jewelry , black sheer stockings, some Repetto ballet flats and an adorable Lulu Guiness bag. Yet again Poindexter brings it and it is completely overlooked and snubbed by the judges.
Sweet P:
The judges raved about this dress and I am going why? To me it looks like leftover "Star Wars" wardrobe.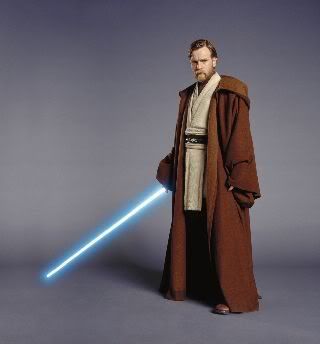 It is well constructed and I don't see any major flaws but it is not a difficult dress with the exception of the balloon *yawn* skirt.
Steven's:
Wax on, wax off. This has just been chosen as the new uniform for the Castro District Tae Kwan Do League. Seriously, are you kidding me? That is a one day project for a beginner sewer. Dude, please, dude...Luke Skywalker is looking for his shirt...

Chris's:
Was it the intrinsic awfulness of the challenge or was it the conception? This dress without the brocade shrug/ bolero hot mess was actually pretty cute. But the jacket ( which was created to meet the "shoulder pads"/ bad trend requirement) turned the outfit into something from the window of a North Dallas Lilly Rubin store. It was not badly made though. It was just very, well, Plano...
Victorya with a Y , as in b-Y-atch (She was so MEAN to Ricky... And I HATE people who micromanage and control freaks too):
The skirt is way too short. The bottom part of the bodice puckers and the top part of it does nothing for the girls figure. To me , this was the look that deserved elimination. On top of that, it reminds me of what the Eloi would wear in Wells' "The Time Machine" or on a remake of "Logan's Run"... This look ( and its designer) deserved a trip to The Carroussel.
Elisa's:
Yet again, freaky-dicky girlfriend pleasantly surprised me. The fit and construction pass muster and the neckline is modern. It actually reminds me of a couple of things I have seen from DVF. I would not wear it because it is so short but maybe as a top, with skinny black pants...
Ricky:
Attention on the set: Some of the wardrobe from "Attack of the Succubus from Planet Venus" has been stolen. Please give Vampira her dress back. She also seems to have misplaced her ray gun". The fabric on that dress is brutal. Illusion netting is a nightmare to use with all the time in the world. Using it when you have 2 days, is having a death wish. Mixing that with a hard to tailor fabric is astounding, because time is fleeting. All while madness takes its toll. the fit of the skirt is really bad. On a chick that skinny. I am not happy.
I am HOPING for the sake of the show that the challenges get better, more imaginative and seriously more fair. Expecting designers to make Judith Leiber minaudieres out of the sow's ears of the last 30 years of fashion history is neither fair, nor engaging.
So far this season has been a huge let-down. I love the show and I am passionate about it. But so far this season, no offense, but the blogs have been better than the actual shows. Except for Christian and Elisa who are hugely entretaining.
So until next week, this is Milla and smile, and that will mean I may'cause I've seen blue skies through the tears in my eyes and kiddies, I realize I'm going home.