I, like the looser I am, had to actually work the high powered nerdy day job today, instead of attending fabulous Fashion Week events which my sister did for me. ( No, the PR twinkundchick fashionbots did no scare me off. I actually had to earn more than they get paid in a.... really long time)
A couple of the best shows took place today including two of my favourites: Luella and Paul Smith.
It is kind of my fault to not have gotten invites since I should have queried for them a long time ago. But I had no clue ALL shows were by "invitation only".
NO ONE informs you of that.
It was a shame that the Ozzie Clark PR-chicklet was such a harpie because I would have LOVED to see the show now that I have seen the photos. Maybe the tanning machine and the excess of UV rays have fried her sense of human decency.
Avsh Alom Gur who is now designing for Ozzie Clark showed some of the most all around universally wearable garments and something that I had not seen on that scale since St. Laurent and Pucci in the '70's: the Caftan.
I love Caftans, maligned as they have been.
See, I am from the "Studio 54" generation. Not the ones that partied there with Bianca and Andy and Harlston but of the teens who saw that as it was happening.
The ones that drooled at the DVF wrap dresses, and "Le Tuxedo" and yes, Talitha Ghetty's Caftan in Vogue.
Women of all sizes look regal in a caftan and these ones are beautiful, fluid and languorous. They have a little bit of St. Tropez with a dash of Casablanca and Haifa for good measure.
I am going to give up food for a while for one of these....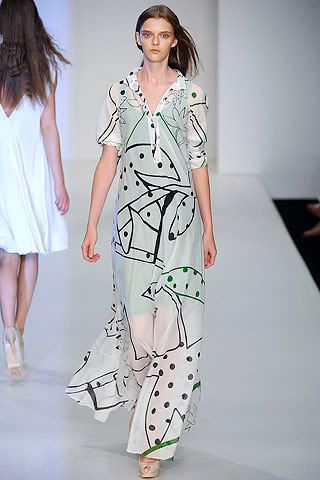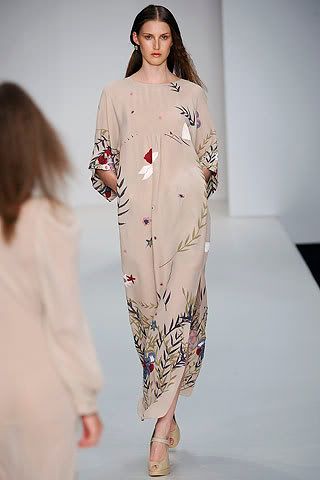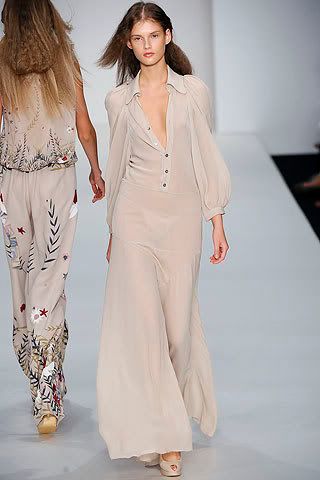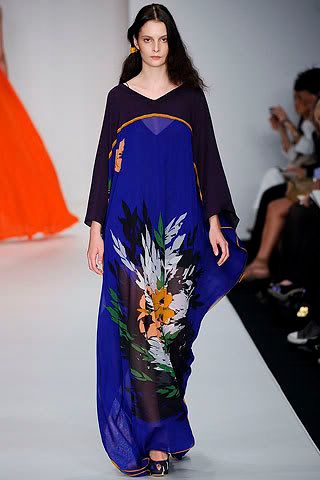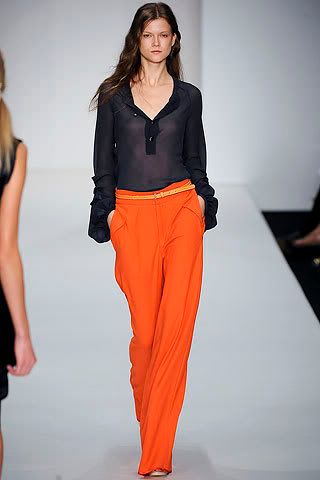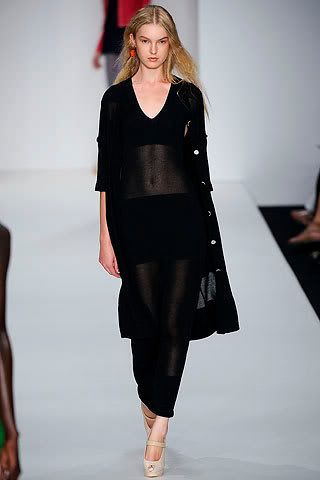 They are fairly exquisite... The prints somehow remind me of Provencale pottery.
And they would be the perfect thing to wear with a pair of breezy sandals to host a party at home. I think for my housewarming party, I will be wearing an Ozzie Clarke... God I AM the bigger woman!!! In every sense of the word.
As I always say... God gave me a big body because I need it to fit in my giant heart and enormous brain. (Pstt: Ask Bianca what a PDE-5 inhibitor is... or why is it that nosocomial infections such as MRSA emerged...)